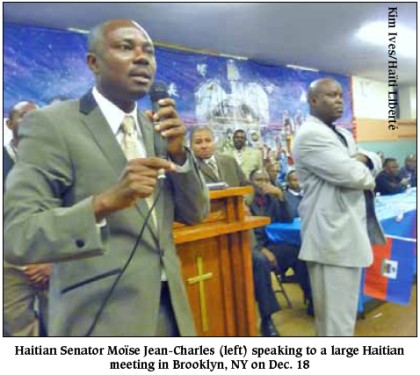 President Joseph Michel "Sweet Micky" Martelly is shoveling money out of the national treasury to family and friends through expensive foreign junkets, aircraft rentals, vehicle acquisitions, and irregular withdrawals from Haiti's central bank, according to Moïse Jean-Charles, a Senator representing Haiti's North department.
In a recent speech he gave at a rally of the Lavalas Family party in Brooklyn, NY and in an exclusive interview with Haïti Liberté, Jean-Charles pointed to a host of inflated costs and official expenses that he says are funneling millions of dollars from public coffers to the First Family and its close friends.
"In the past, when a Haitian president traveled abroad, the state would pay him $5,000 per day for expenses," Jean-Charles told Haïti Liberté. "Now, President Martelly has quadrupled that per diem to $20,000 a day. When his wife travels with him, she gets $10,000 a day; if his children tag along, they get $7,500 a day each; and for the other people in his entourage, they get $4,000 a day."
Jean-Charles said that the per diem expenses are even higher because Martelly "does not travel with 12 people, or with 15 people; he always travels with 30 people."
It took President Martelly five months to have a prime minister and a government approved by the Parliament, during which time he made several international trips to countries including Spain, the U.S., and Chile.
At a Dec. 18 rally to mark the 21st anniversary of Jean-Bertrand Aristide's historic first-round victory in Haiti's Dec. 16, 1990 presidential election, Senator Jean-Charles told some 200 Lavalas Family partisans at St. Jerome church in Brooklyn's East Flatbush neighborhood that eight days after Martelly's May 14 inauguration "he had the governor of the central bank give him five bulletproof cars, which cost the Haitian state $2.5 million US."
Two weeks later, the central bank governor bought 60 Toyota Prado SUVs "not for state officials, but for [Martelly's] children, for his wife, and for people living with him," Jean-Charles told the crowd.
The Senator also chided the Martelly government for renting two helicopters from a U.S. company for which Haiti pays $150,000 monthly. Furthermore, Jean-Charles said, President Martelly has rented a private jet for his travel which costs $1,700 per hour flown.
"These are the type of costs being incurred by President Martelly, the president of the poorest nation on the continent," the Senator said at the Dec. 18 rally.
Jean-Charles did not disclose to Haïti Liberté how he learned the information he alleges, but he did say that his sources range from documents to dismayed and disgruntled government ministers.
Several ministers were particularly vexed to receive an invoice from a company which worked closely with First Lady Sophia Martelly sprucing up the ministries' offices with unsolicited Christmas decorations, Jean-Charles said. "There may be a conflict of interest for the First Lady to be using this company which is close to her, and charging up costs which are outside of her authority," he added.
Jean-Charles also questioned how the First Lady's father, Charles "Bébé" St. Rémy, was able "to go to the Central Bank and release $30 million US on the grounds that he was going to buy fertilizer for peasants" in Haiti's Artibonite Valley, the senator told the Brooklyn rally. "Where is the fertilizer?"
Jean-Charles later told Haïti Liberté that he had recently traveled to towns and rural sections around the Artibonite and could find no evidence that any peasants there had received any fertilizer from the funds which St. Rémy withdrew.
President Martelly's 18-year-old son, Sandro Martelly, a musician and soccer enthusiast, was also able to go to the Central Bank and have released 60 million gourdes (about $1.5 million US) for a "Presidency Cup" soccer game this past December, the senator charged. "Does he have the right to do that?" Jean-Charles asked.
"President [René] Préval left $1.9 billion US" when he stepped down on May 14, said Senator Jean-Charles. "That money should be in circulation. But not one gourde remains. Where did that money go?"
A National Palace spokesman did not reply to Haiti Liberté's request for a response to Jean-Charles' charges.
Senator Moïse Jean-Charles first rose to national prominence as the leader of the Milot Peasants Movement (MPM) during the 1980s. Later as the mayor of Milot, the northern city which was home to Henri Christophe's Sans Souci Palace and the Citadelle, Jean-Charles became known for his fierce resistance to the coup d'états of both 1991 and 2004 against Aristide. He later was elected Senator under the banner of Préval's party, since Aristide's Lavalas Family party was disqualified from electoral participation.
"Martelly always said that we were the 'magouilleurs' (unprincipled ones), that we were incompetent," Jean-Charles told the Brooklyn rally. "But just look at what he's given us today. It is a real cesspool. We have to denounce these things."
The senator's charges come at a time when other troubling matters are coming to light. Last week, Martelly's education advisor Dimitri Nau "admitted that none of the money collected through a tax on international calls and money transfers is being used towards education in Haiti" as Martelly had claimed, according to the website Defend Haiti in a Jan. 3 dispatch.
Martelly launched the National Fund for Education (FNE) in May 2011 with the goal of collecting $8.5 million per month by taxing all international phone calls in and out of Haiti at 5 cents per minute and all international money transfers which the Haitian diaspora sends back to family members – Haiti's largest source of foreign revenue – at $1.50 per transfer.
"Since the launch of the FNE, the estimated $60 million [US] expected to be in the government's account for education have not been found," according to Defend Haiti. "In a meeting with the Senate Finance Committee in December, the Governor of the Bank of the Republic of Haiti [Charles Castel] said that $4.8 million [US] were all the dollars in the FNE and that no withdrawals had been made from the fund and that this only accounted for money collected through the $1.50[US] fee on transfers."
Castel's figure of $4.8 million last month was contradicted by Martelly's former Education adviser, Gaston George Merisier, who announced on Sep. 30 that the phone call and transfer tax had raised some $28 million [US]. The FNE has been conceived of and administered by Foreign Minister Laurent Lamothe without parliamentary supervision.
The Haitian government "has spent an unprecedented amount of money on a campaign of misinformation," reported Defend Haiti. "Radio and television commercials, billboards, and even the speeches of President Martelly have claimed that nearly a million children are attending school for free."
But Nau admitted that over 54% of the 903,000 students the government claims are going to school for free were already attending Haiti's free national school system, and that their $2.50 to $5 annual registration fee was paid for by the Clinton Foundation, not the FNE.
"The other 400,000 students are benefitting from an 'Education for All' program launched by the World Bank and other international banks," reported Defend Haiti.
Last October in an interview with Radio Vision 2000, Senator Steven Benoit said that the taxes being levied on international calls and money transfers are "illegal." He said that only two state institutions were authorized to collect such a tax: the General Directorate of Taxes (DGI) and the General Customs Administration (AGD).
Senator Benoit has often joined Senator Moïse Jean-Charles in accusing the Martelly government of corruption and financial malfeasance. Last September, Jean-Charles criticized President Martelly for paying $13,000 a night for his hotel when attending the UN General Assembly.
"The chief of State could have gone to a less expensive hotel as the representatives of Cuba and Venezuela did," the senator told the Haitian daily Le Nouvelliste